Last summer we heard on the radio an ad for Blood:Water Missions. They were saying kids could set up lemonade stands to help raise money for clean water in Africa. Jenna was so excited and wanted to do one right away. I thought it sounded like a lot of work for a 7 year old (really a lot of work for me if I'm honest) and told her, "Next year…."
Well, "next year" came around and she had not forgotten about her dream of a lemonade stand to help raise money for Africa. I've always had a heart for Africa, our sponsored child William is in Kenya and he feels like another part of our family and it was on Jenna's summer bucket list (we always make a family summer bucket list) so we said "Yes!" and put it on the short order list of things to do.
Blood:Water is a great organization whose mission is this: "We are a community, motivated by the love of Christ, to create lasting change in Africa. We give our lives to serve local leaders and join them in the fight to end the HIV/AIDS and water crises." They have a great mission and they make it so easy to be a part of what they are doing in Africa. They help you set up your kids website for their Lemon:Aid stand, print materials for the stand, and for people to donate. Easy peezy. An added bonus is that for kids who do the Lemon:Aid stands there is someone who matches every donation that comes in.
The first step for the lemonade stand was creating the website. I came home from the store one day and Matt said, "We have the lemonade site all ready to go. Jenna set her goal at $1000." I'm pretty sure I screeched at this point, "What?!!! $1000! Why would you let her set a goal she will never reach?!" So yes, my daughter is a better human than I am because she wanted to raise money for clean water to start with and then she had more faith than I did that she could reach a very large goal. I'm constantly challenged in a good way by my little people.
The second step was to make a lemonade stand. We had nothing extravagant in mind for this but it turned out so stinking adorable. We found a perfect turquoise desk at a yard sale we randomly drove by, my dad brought wood to build the sign, and we took spray paint out of a "free" box on the street to paint with. A little work, a lot of love, and voila, you have a lemonade stand.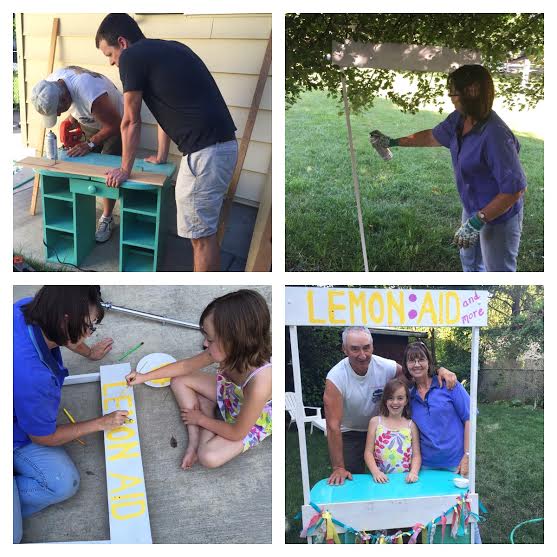 The third step was to advertise on Facebook that Jenna was doing a Lemon:Aid stand, on Nextdoor.com to our neighbors the times she would be selling the lemonade, bracelets, and other goodies and open up for business.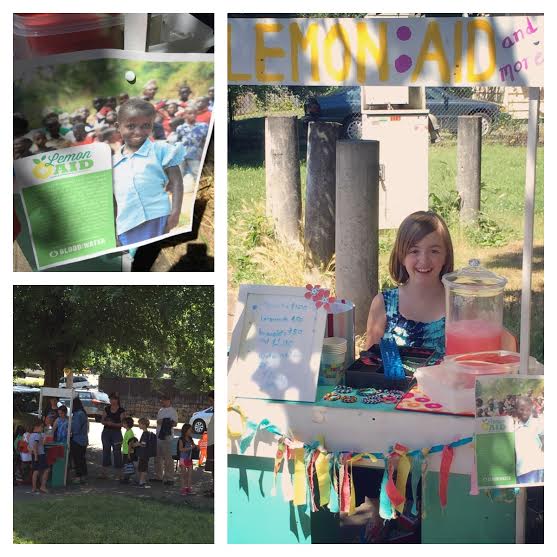 As soon as we posted her website people started donating. I almost cried at how generous people were and again was reminded how great the hearts of people can be. The look on Jenna's face was priceless when she woke up the next morning and had already raised money. I knew then that her faith-filled goal of $1000 was going to be met.
The excitement of the stand never wore off and I'm proud to say that Jenna reached her goal!! Thank you to everyone who gave!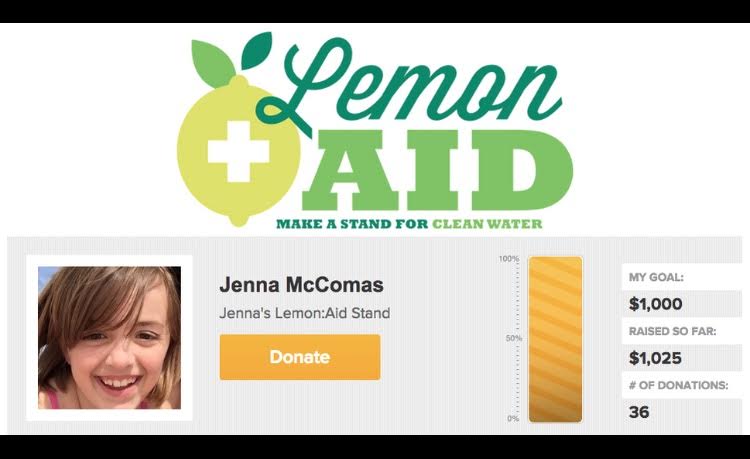 I'm so proud of her sweet, generous heart, her hard work at making bracelets and lemonade, being a little entrepreneur, and making a difference in so many lives in a place that she's never even been to. I've learned once again that little people can make a big difference in our world and I shouldn't stand in the way of her big dreams and goals. This is definitely one of the summer bucket list items that will be the sweetest of memories for our whole family.
What about you? Did you check off some fun bucket list items this summer?
Do you have a child at home that might want to set up a Lemon:Aid stand? I highly recommend it!!