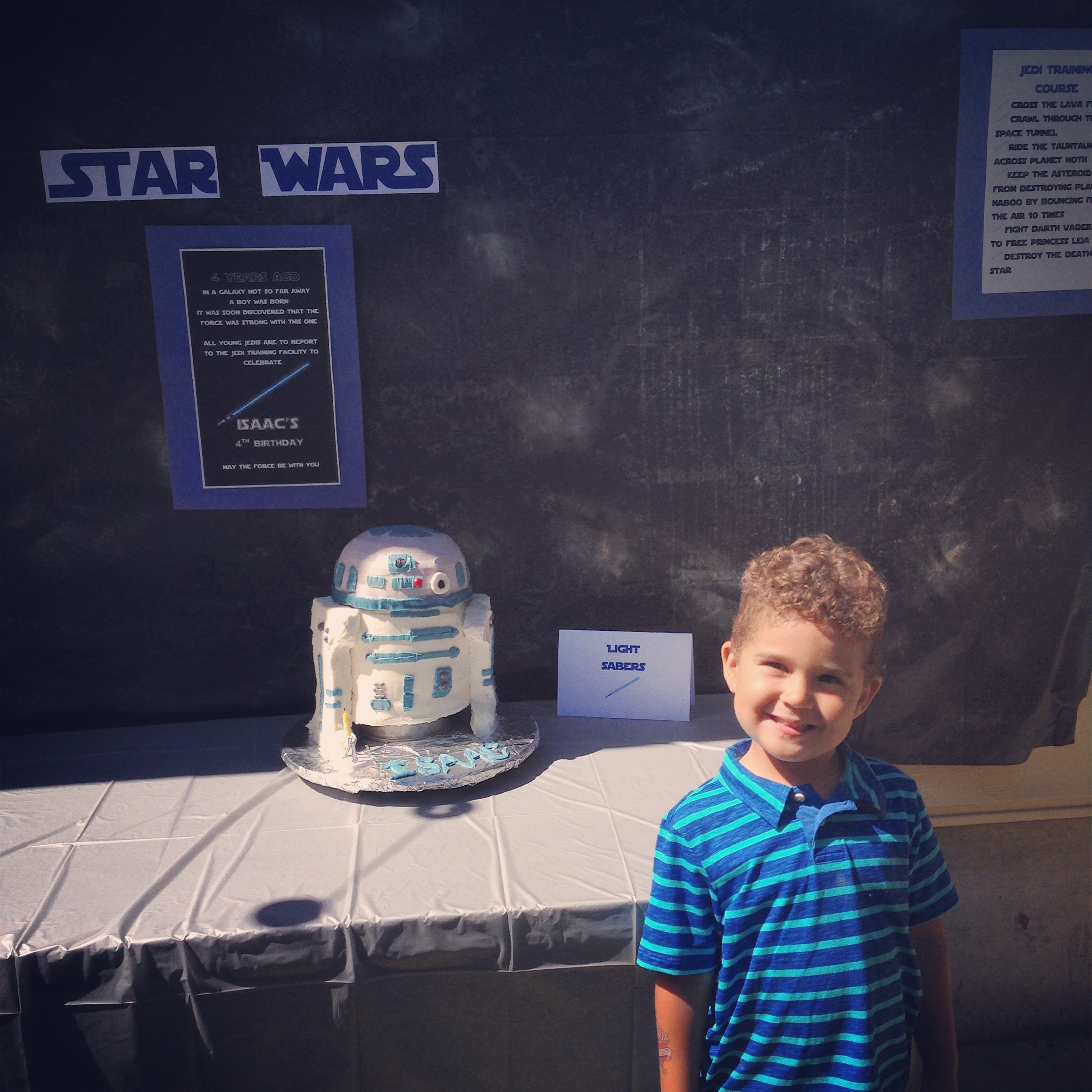 Isaac just turned 4 so that meant party time. You all know that we like to throw big parties for birthdays and this year was no different. The only difference is that as my kids get older they have more opinions, want to be more involved and in this case because they are both obsessed with Star Wars there were many hopes and dreams wrapped into this celebration. I am not actually a huge Star Wars fan (please don't throw stones if you are) but my daughter is an expert (please don't throw stones if you don't agree with my kids watching this) so she was my critic consultant for every decision.
While looking for party ideas we of course turned to Pinterest. Where else do you go these days? There were so many great suggestions and party ideas out there. Many were taken from there, tweaked to our liking and below you'll get to see how our Star Wars bash turned out. It was an epic celebration and we all had an amazing day. I love a good birthday and for me organizing and throwing the party is all part of the fun.
Party Prepping and Party Details:
We made light sabers out of pool noodles which we then gave to the kids for weapons Jedi training. These were a huge hit (in more ways than one)! Way more laughs were had than tears and no blood was shed which is success in my book, And for the record if you ever try to look for pool noodles after mid July you'll be out of luck. I bought the last ten noodles at a store in Seaside (90 miles from here). None were left in Portland and I thought my party plans were foiled but I was lucky in the end. And as you can see in the picture above I did indeed give my 7 year old a knife to help cut them in half. Danger.
The main party activity (besides fighting one another with light sabers) was a Jedi Training course. We needed a lava field for part of it. I ended up using a roll of paper my daughter had, the last roll of red crepe paper and the end of the bottle of glue. I love using what's on hand and getting creative. It was not the original plan as I wanted to use a red table cloth to make it bigger but didn't have one and this worked just fine in the end.
We needed a Death Star to destroy so we bought a soccer ball pinata, spray painted it silver, put in candy, and used electrical tape to make it look like a very simplified version of the Death Star. The kids loved it.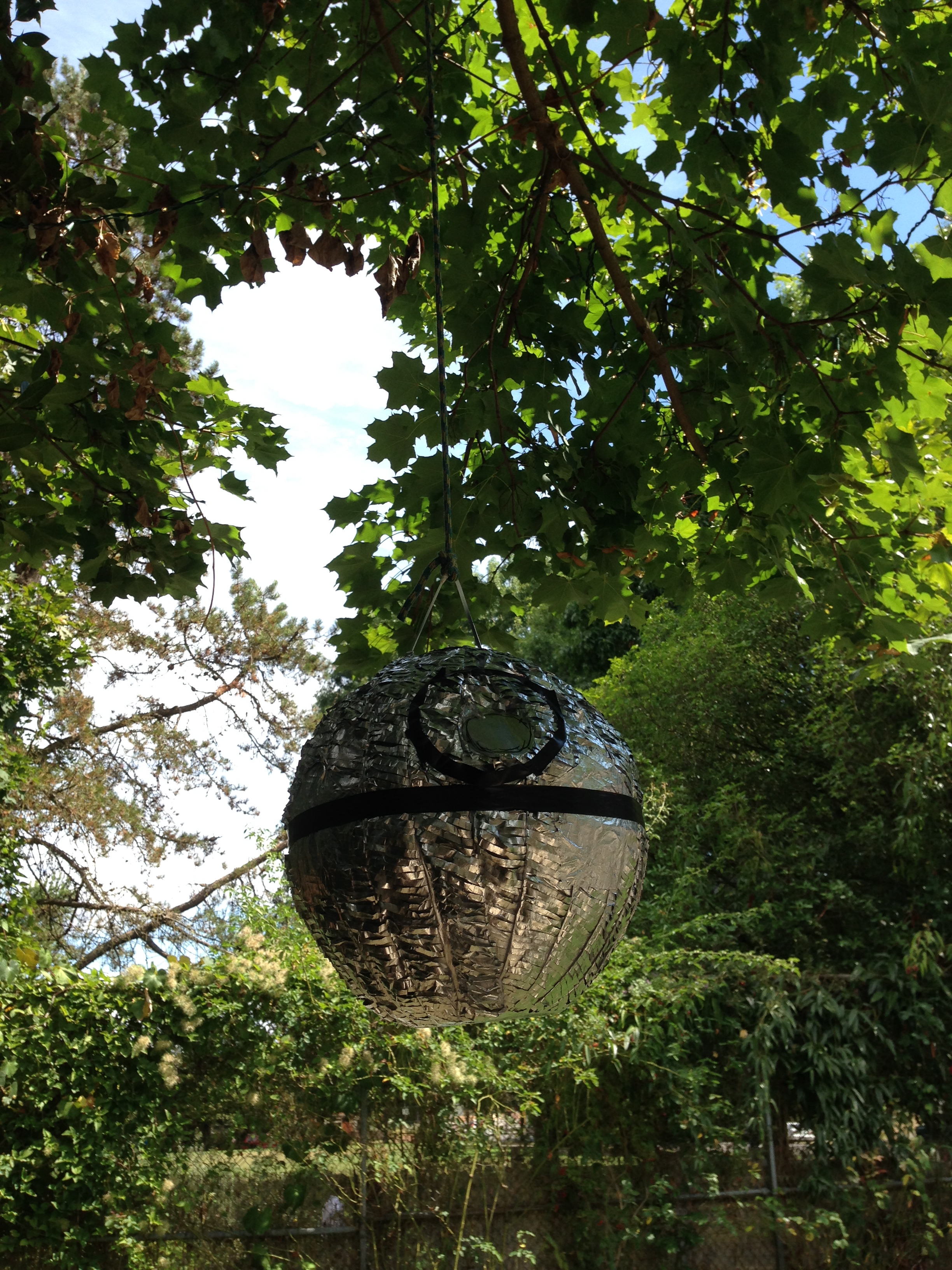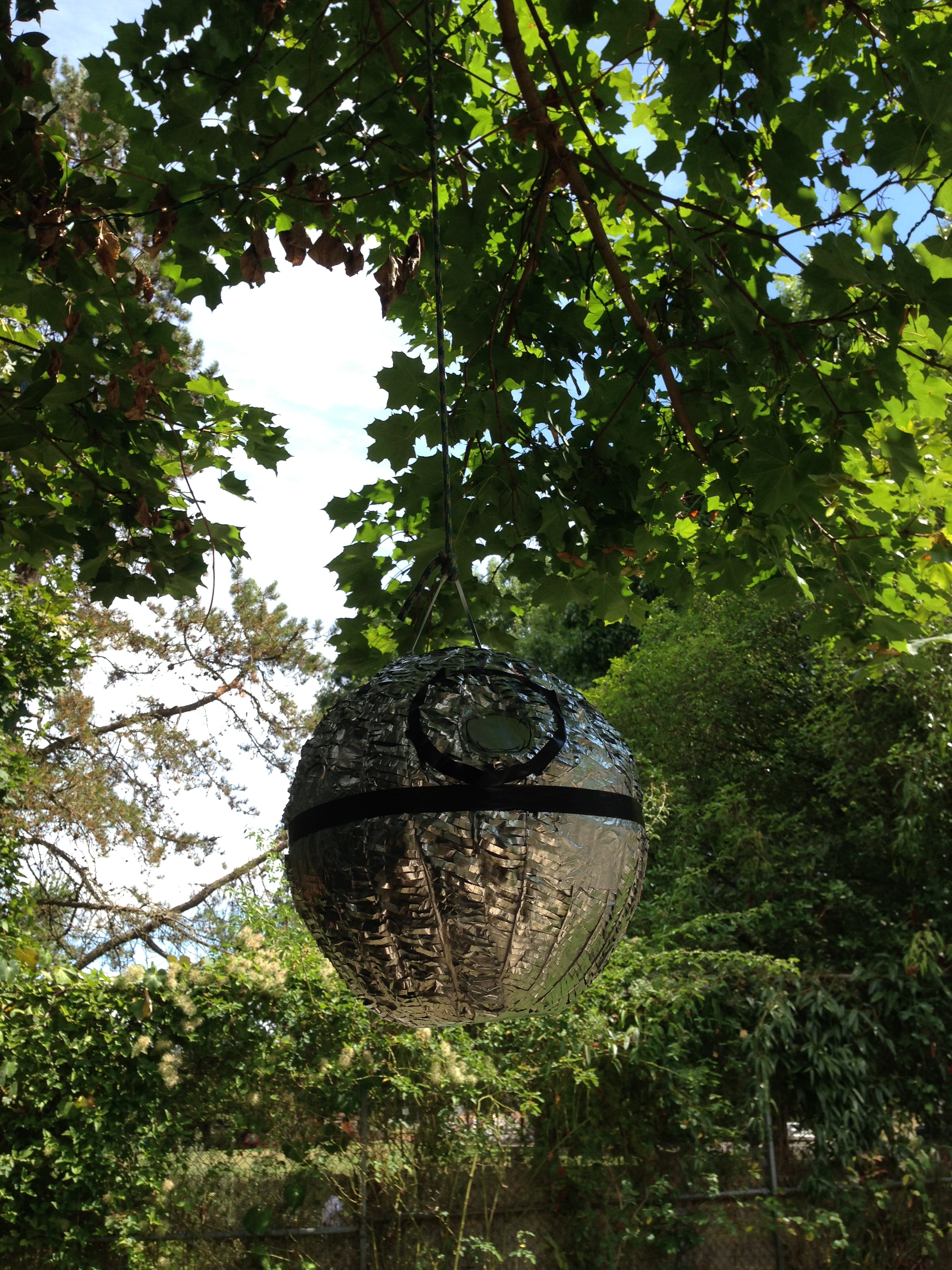 We have a play tunnel so we covered it in two black plastic bags and they got to crawl through "space" in the Jedi course. Word to the wise. Tape the two bags together because after a few kids crawl through it they slide apart. Oops. They were strong little Jedi.
We bought a couple bags of balloons so the kids could use their light sabers to hit asteroids in the air at least 10 times. This was fun, the neighbors ended up with a few balloons (sorry neighbors), and they found the pokey plants that would pop and destroy the asteroids for good.
Who is that creeper in the window? Well, the Jedi in training had to fight Darth Vader before destroying the Death Star. My husband wins the best dad of the year award for doing this. We didn't have a real Darth Vader costume but we did have a black graduation gown, a small cape, a mask, black gloves and made our own breastplate (that fell off half way through the battle). We got creative and that too was a success. The kids loved it. Thanks hubs.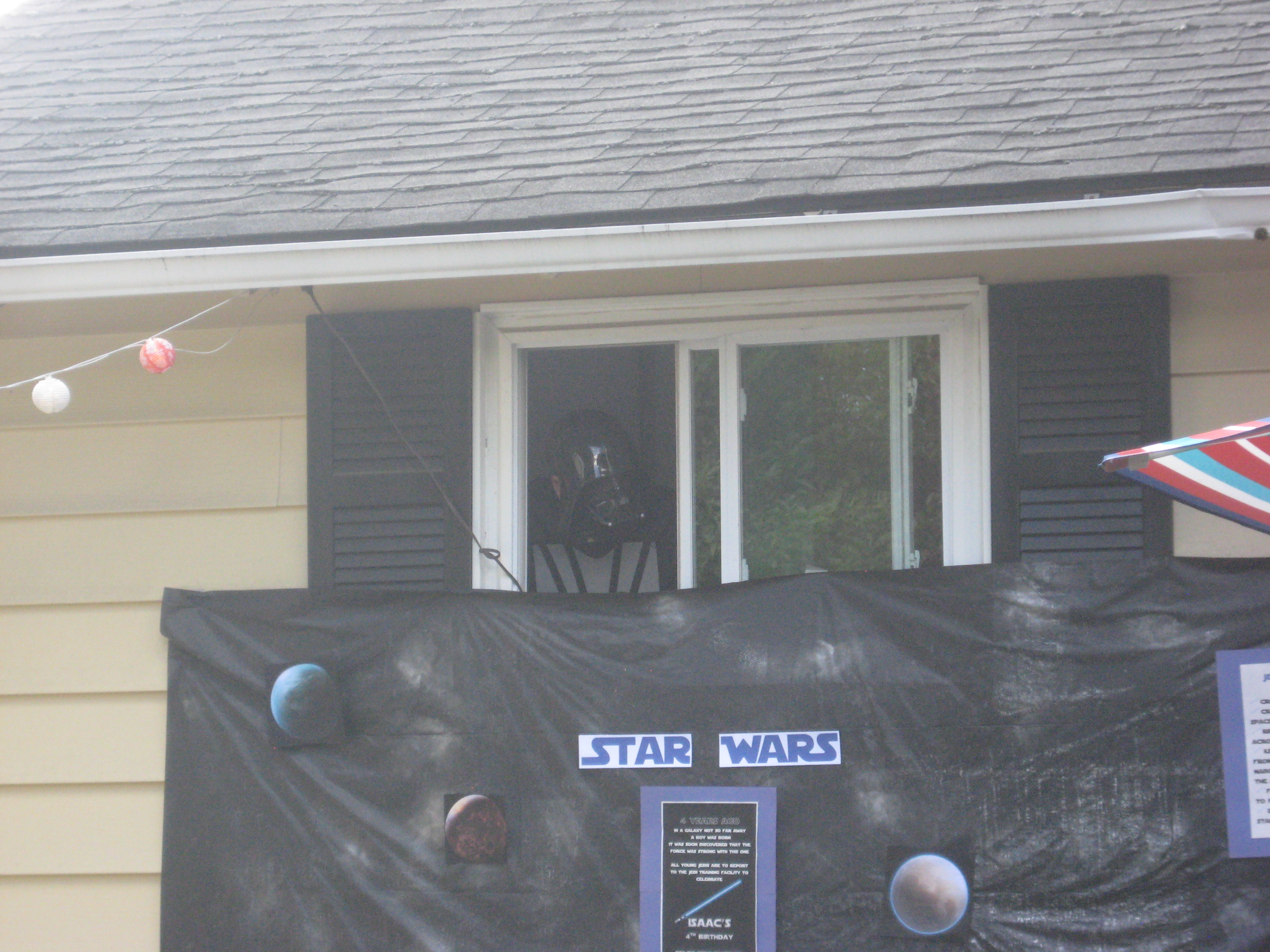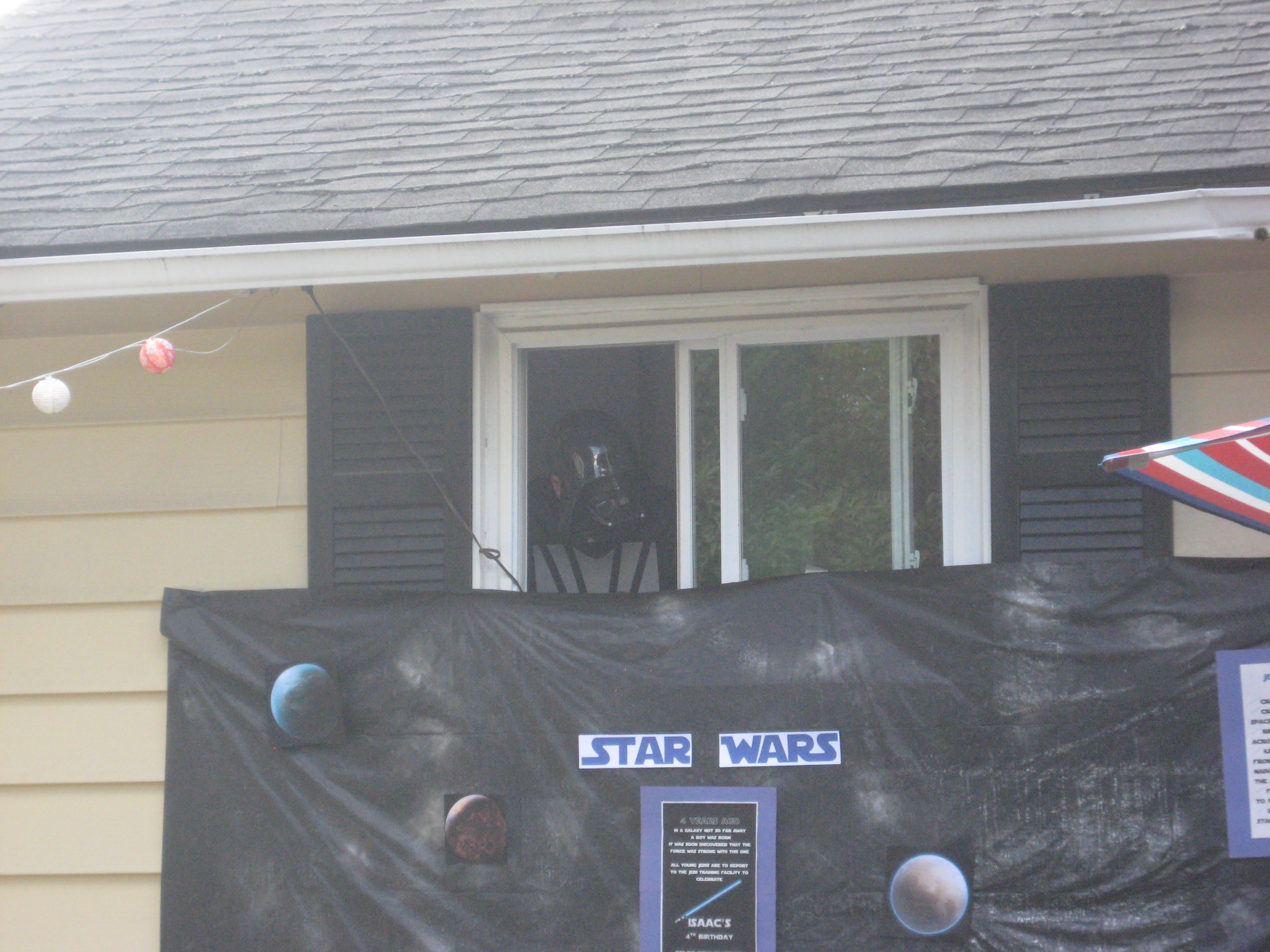 Every party needs food and drinks. We went simple on the food, just some drinks and fruit.  We had fruit sabers, wookie water, Yoda soda (lemon lime soda with lime sherbet), and cups that had been designed to look like R2D2.
The back drop behind the food table was a black plastic table cloth spray painted silver to look like stars. At the last minute Jenna insisted it had to have planets taped on. We quickly printed some and she of course was right, it made it look better (you can see it was too plain in the top picture before we added them). Those were proper Star Wars planets too that she had names for but I can't remember them.


The cake and ice cream was the main food group. That's acceptable for a birthday I think. For the cake this year we went big. I made an R2D2 cake that was made up of six, eight inch round layer cakes and two arms made of rice crispy treats. I wouldn't have been quite that brave if my mom wouldn't have been here for help and backup. It took several hours to complete, leaned slightly but overall turned out pretty darn good. I'm no professional so I was pleased at the outcome.




We all went to bed so grateful for family and friends who came to celebrate with us. We were tired from all of the excitement and joy we felt through celebrating together and we went to bed with very full hearts. I'm not sure that we'll be able to top this next year but I'm sure we'll give it a good try.