The snow began to lightly fall and hopes began to soar that it might actually stick to the ground. School was scheduled for an early release and as parents fetched their kids their excitement and squeals at seeing snow was contagious. With barely a skiff of snow on the ground my kids had their snow gear on and were headed outside to make snow angels and gather all they could to throw snowballs. By late afternoon there was enough snow to head to the park for a 40 minute sledding sessions. Before too long though the wind and snow was blowing too hard to enjoy it and my toes and fingers were totally frozen. I no longer have good snow gear and neither do my kids. It's a crying shame after living in Montana.
After the kids were in bed we just sat and watched the beautiful flakes fall and enjoyed the hush that falls over everything. I don't miss much about the snow but I do miss that quiet that comes with a snow storm. There's nothing quite like it. And it's especially quiet here because most people don't dare venture out because they don't know how to drive in it, and even if you do the roads aren't taken care of because there's no equipment to do it.
By Saturday night we had put a lot of hours on that snow hill in our park. The kids had done dozens of runs on the sled and tried their hand at a snowboard which Isaac took to so quickly I could hardly believe my eyes. We had a few snowball fights and even finished off our fun filled Saturday with a fire pit and s'mores. It was a long weekend that our kids and us for that matter will remember for a long time.
Just as promised the snow started to turn to sleet and freezing rain. We woke up to at least a quarter inch of ice on top of everything. After walking on the yard it looked like a sea of icebergs and was no longer soft and fluffy but sharp and crunchy. Matt and the kids headed off for a walk through the neighborhood with some friends to see the icy sights. I stayed behind because a month of good health has come to an end and a terrible cold has come to visit me. Just like the ice storm, I did not welcome this cold. Grrr.
After about an hour I got a picture from my friend of Jenna in a recycling bin. She decided to try the icy sled hill like her friend had. All went well until she was about 2/3 the way down and then she hit the ice and skid on her face. (See the before and after picture below) That was a sad way to end the morning but I think that it's safe to say that she's cured of any future luge rides or ice sledding. We praised her for being brave and trying a new sport and also while praying tonight she thanked God that she didn't break her neck or lose any teeth. Amen Jenna, Amen.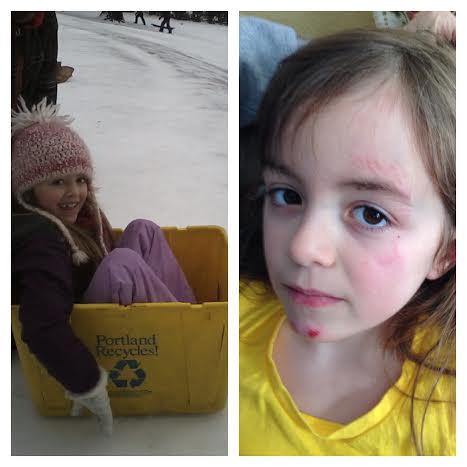 The rest of the day was quiet, resting on the couch, watching the Olympics to which Isaac would randomly say, "I want to do that" when he saw the ski jumpers or snowboarders and Jenna would say, "not me".
I came back into the room at one point and this is what I saw below. I left the room and she was 7 and came back in and she was a15 year old hipster. What?!!!
It sounds like the "storm blast" continues with freezing rain again tomorrow morning so we have another day at home. Looks like more crafts, reading and rest time awaits us. All that snow was such a treat but I'm excited to see it go. I'm ready to hang up those snow pants and not take 10 minutes to get my 3 year old into his gloves every couple hours and no more wet mess at the back door. Now let's just hope that all this wintery goodness hasn't totally killed my tulips that were already poking their glorious heads out of the ground. Hold on sweet flowers, hold on.