Two times a year I get to throw birthday parties for my fabulous kids. I don't feel like I have to do elaborate Pinterest parties, or do Pinterest parties justice. What I like to do is celebrate my kids, make it memorable, and add details I think are fun. I find great ideas online, take a couple months to adapt those ideas and make them my own. Sometimes I use it as a way to procrastinate folding laundry, escape into a crafty world for an hour or two, or do a project that has a beginning and an end. I love letting my kids be a part of the planning (most of the time) as well.
Jenna picked the theme for her birthday party months ago and it was such a fun party to throw. It did take a little prep leading up to the party but we had a great time in the kitchen together getting ready. If you ever want to throw a cooking/baking party, here are a few of the ways we did it if you want to steal some ideas.
A Cooking Party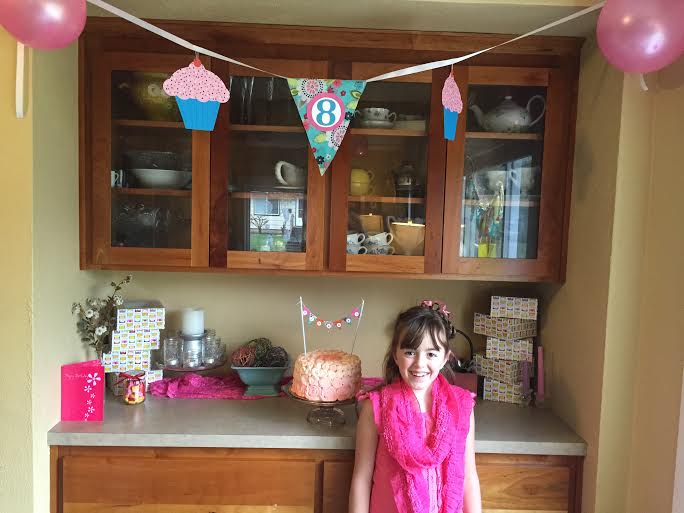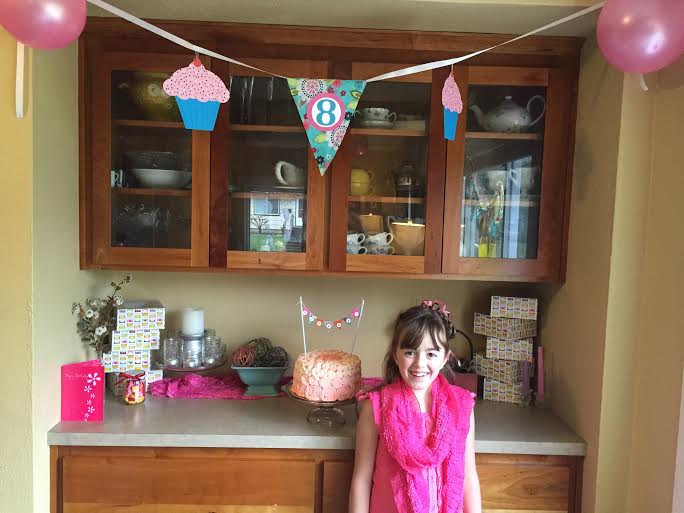 The Cake
Jenna always wants a white cake with berry filling. I used the recipe here for the cake. I thought it was a bit too sweet and would use less sugar next time but everyone else really liked it. We did three, eight inch round cakes, three shades of pink for the frosting and decorated with simple rosettes (starting with big at the bottom and getting smaller toward the top). The pendant flags were made with fabric from the aprons, I glued on the letters and we used straws to hold it up.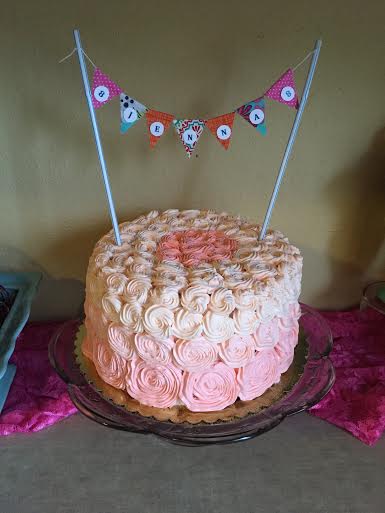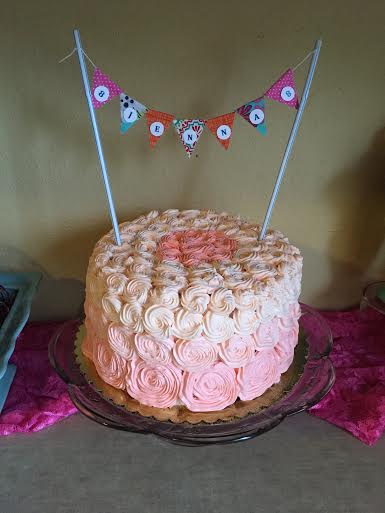 Aprons
Jenna wanted aprons for all the girls to wear so I bought cheap aprons on Amazon and Jenna picked out cute fabric to sew ruffles onto them. We then took the supplies to my mom who made them (along with a little help from Jenna) look adorable. They added a fun flare to the party, kept their clothes mostly clean while making pies and decorating cupcakes and they could take them home.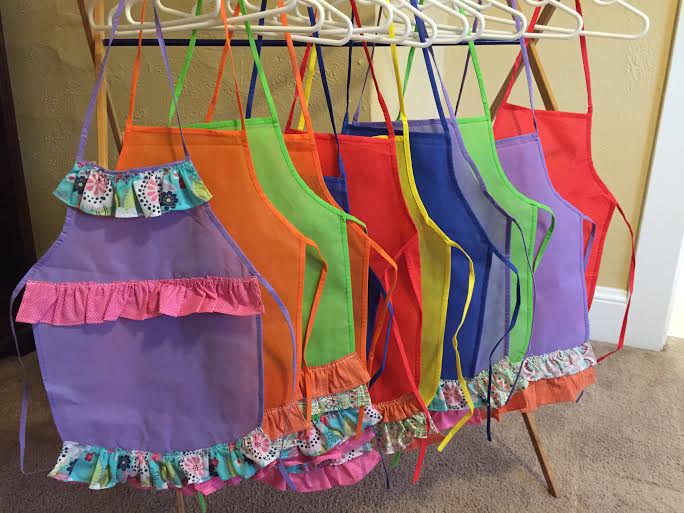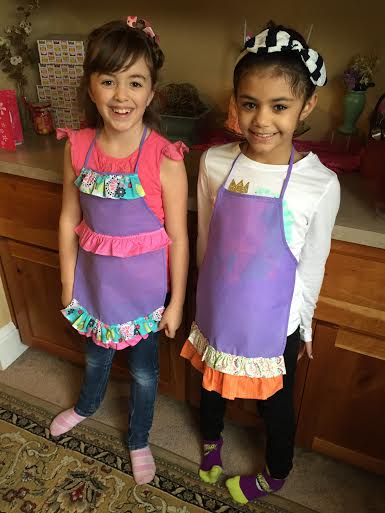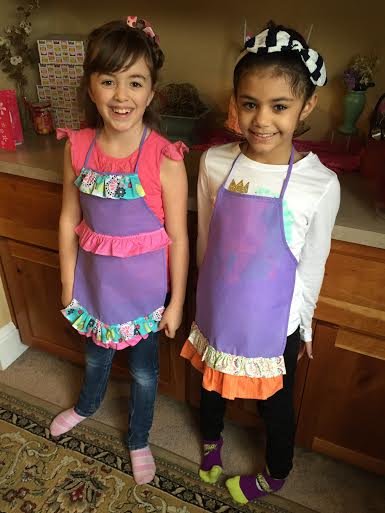 The Baking/Cooking part
Pies
I bought small tin pie plates, a few pre-made pie crusts as well as a couple home-made pie crusts with special flour, and made filling for apple pies and mixed berry pies. All the girls had to do was roll out the dough, cut it to fit the plate, fill it with the filling of their choice and make a top for it. I put them in the oven and by the time the party was done, the pies were too.
Decorating Cupcakes
I made the cupcakes ahead of time, filled a bunch of bags with different tips for decorating, pre-made some frosting, put sprinkles on the table and let the girls decorate their cupcakes. They did a fabulous job and then they got to take them home in adorable cupcake boxes I found at JoAnne's (and I used multiple coupons to buy them of course). Those boxes may have been one my favorite parts of the party. It's the small things people.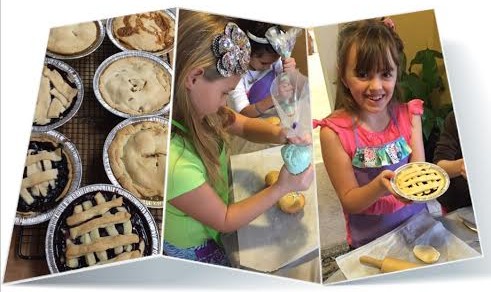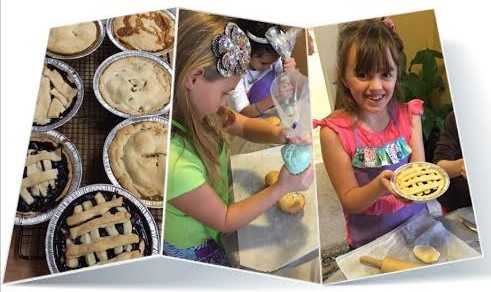 Games
Candy Jar Best Guess: I put starbursts in a jar and they guessed how many were in the jar. The best guess won the jar.
Hot Potato: I found some fun kids music on Spotify, got a potato out of the fridge and voila, you have a fun game of hot potato.
Pasta Race: I bought two bags of pasta and two spatulas at the dollar store. They split into two teams, sat in two lines so there was no running and had to take the pasta from one dish to the next passing the ladle down the line. The first to fill the pot with all the pasta won.
I got fun drinking straws that changed color from the dollar store and sprinkles from the dollar section at Target for the other prizes.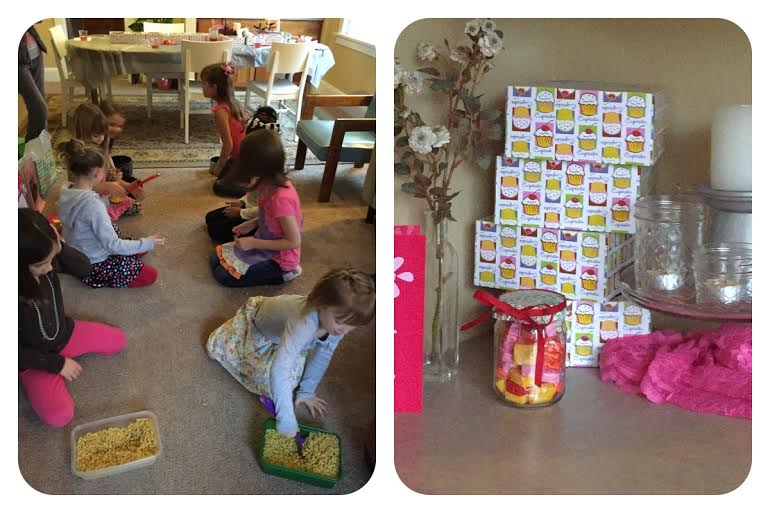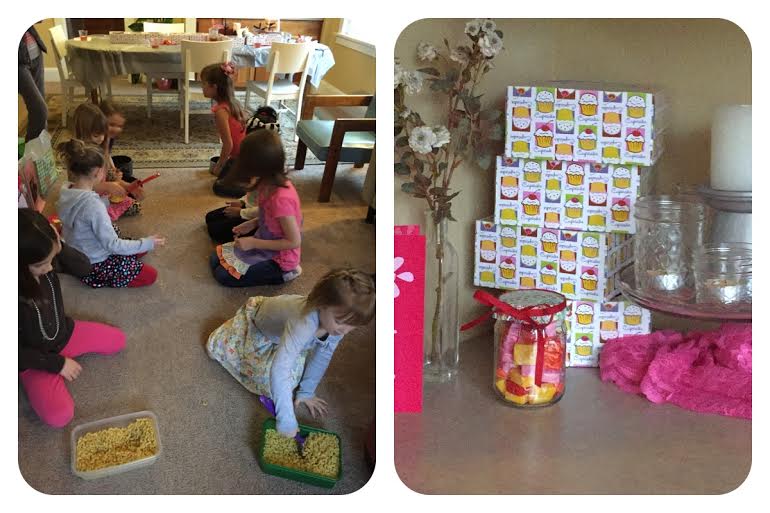 Decorations:
I printed out cupcakes to hang with the pendant I made out of left over fabric from the aprons, strung some hot pads and cooking utensils from ribbon, balloons and random things I had around the house to add to the ambiance. The most difficult decoration was the silverware chandelier. I just used card stock, plastic silverware, a glue gun and ribbon to hang it up. Things like that are totally unnecessary but fun to try.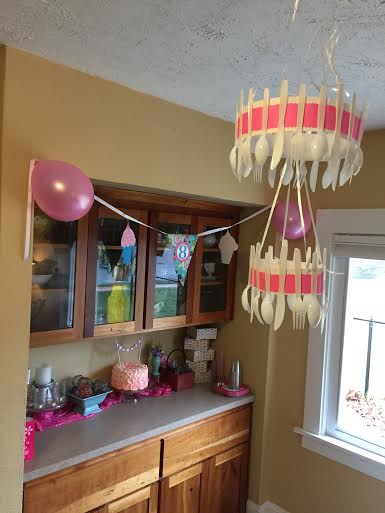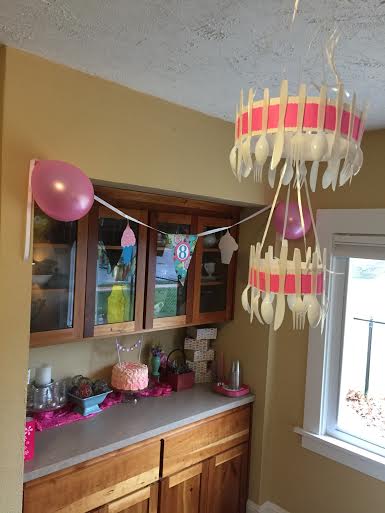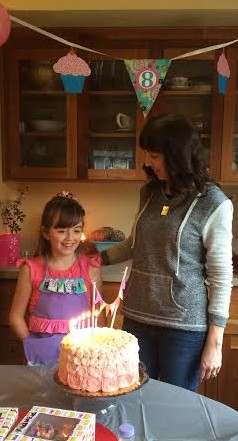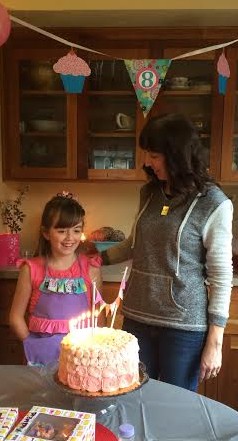 It was a fun afternoon for sure. Another memorable birthday celebrated. I can't wait to see what Jenna dreams up for us to do next year.