Each year for Christmas I make calendars for all of our family. These are a labor of love because they take a lot of time. I realize that I make it harder on myself because I individualize each one. I can be my own worst enemy. As I sift through thousands, yes thousands of pictures, to add just the right photo for each month it serves as a jog down memory lane.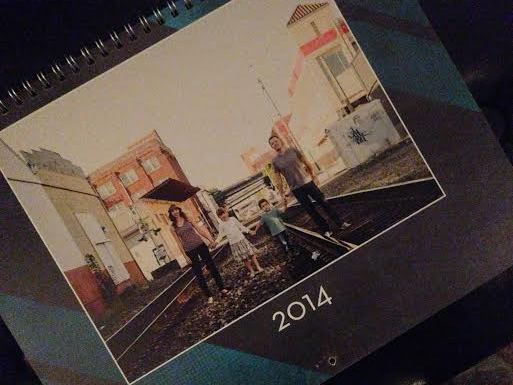 Each picture, each month, serves as a highlight reel of the past year. I choose the best pictures, the ones that represent some of the greatest outings, the new experiences, the birthdays, holidays, celebrations, and the joys of life. For the next year we get to look at that calendar and reminisce about sweet memories made from the previous year.
I'm always thankful for this process because it helps me see how we've all grown, especially my kids, the places that we've traveled, the lives of friends and family that have been with us along the way. It's a reminder of all the joys that the Lord has allowed us to take part in.
Even in the midst of all the smiles in the calendar it's impossible to ignore the hard times. Those pictures aren't represented, but the memories are. There are faces that appear on some pages and then disappear on others. People we love move on or are only here for seasons, people make choices to walk away and as I look at our calendar next year I'll be saddened that they still may not be there. That's how life is; joys and sorrows. If it weren't for the hard things, that may not necessarily show up to an an onlooker of our yearly calendar, (or Instagram feed) it would be hard to recognize and appreciate how truly beautiful those fun and happy times are. I don't take them for granted.
Last year, in 2014, God took us on many adventures. We started out with weary souls. God took us as we were, weary, gave us a time of rest through our sabbatical and rejuvenated us. We have amazing first time experiences with our kids, pioneered a new Summer Missions Project, celebrated our 13th anniversary, hosted fun neighborhood events, and ended our year of ministry with a team of people that we love dearly. God lead us, spoke to us, challenged us and changed us in 2014. It is one that won't be forgotten. Through all the smiles on those calendar pages, and the tears unseen, we ended the year so grateful and full of thanks.
2015, here we go. New beginnings, new challenges, new ways to grow and always new ways to trust the Lord.