In between the more serious moments like reading our Advent book we've been doing a little crafting. This month is not being packed with lots of crafts, just a few. I saw an idea in a parenting magazine for stringing marshmallows. They used it to dress up a hot cocoa bar which was totally adorable and I thought they would be fun in the front window. It looked cute and simple and the description made it sound like the easiest thing ever. I'm not a craft novice so I should know better than to believe the lies they tell in their descriptions. All crafts (especially in magazines and the wonder mom craft blogs you find on Pinterest) should come with a warning, "If you're an average mom this will be harder than described. You will make a very big mess and it will look as if your 3 year old was in charge. Proceed with caution and finish off with a nice stiff drink." Does anyone else agree or am I the only one who this happens to?!
Okay, I'm being a little dramatic but it's never as simple as the picture looks. I gathered my fishing line, needle, and marshmallows. I began stringing and very quickly it was a sticky mess. But, if you don't mind getting sticky, going slowly, using a wet cloth to clean off the needle every few marshmallows then you're good to go. Also, word to the wise, don't hang them up immediately or the marshmallows slide right to the bottom. It helped to let them dry to the fishing line before hanging them in the window. Why don't they tell you these things in the magazine? Although Isaac found a marshmallow on the floor today that had fallen off the line two days ago and thought it was a nice treat. 3 year olds are disgusting little humans aren't they? They sure are cute though, the kids and the marshmallow snow drops.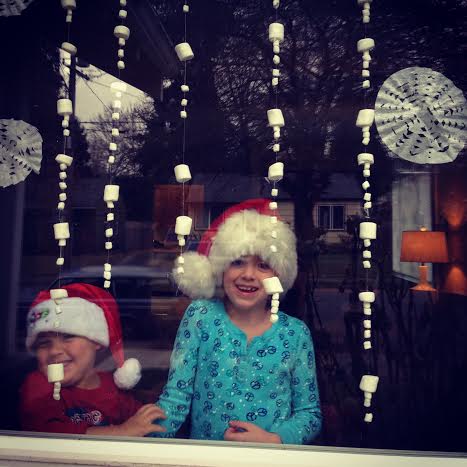 Jenna has also been making lots of snowflakes to hang up. Coffee filters make this craft so much easier, they're always round in the end and it's the only snow that we get around here that sticks so we'll take it. Although, this past week has felt like Montana weather around here and we even had snow. Brrrrrr.
What crafts have you been doing at your house? Do yours come with warning labels and stiff drinks?